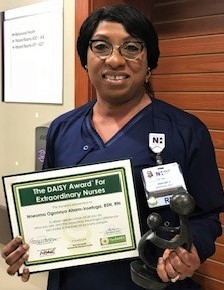 November 2018
Nneoma
Aham-Iroetuga
,
BSN, RN
Geriatric Behavioral Health Unit
Novant Health Thomasville Medical Center
Thomasville
,
NC
United States
Nneoma Aham-Iroetuga had developed a rapport with a patient who only spoke Swahili; she had cared for the patient several shifts and the patient had come to trust her. Interpreter services were utilized frequently for this patient, but they were only available until 4 PM each day. Nneoma was concerned about the communication needs of the patient when an interpreter was not available. She went above and beyond making a list of words and short phrases that the patient may use, she then asked the interpreter to write the word in Swahili.
Nneoma shared when this patient was hungry, in pain, or needed to go to the bathroom with the communication aid for the night shift team; she wanted to make sure that the team members would be able to understand and respond to the patient's needs.
As it came time for the patient to be discharged, Nneoma learned that the patient's family lived a good distance away and were unable to transport the patient back home. She knew that this would result in the patient being transported by a Sherriff's deputy. Nneoma worked with the interpreter to make sure the patient understood how they would be getting back home and to emphasize to the patient that they were not in any trouble- the deputy was being used to ensure that the patient arrived home safely.
This is just one example of the thoughtfulness Nneoma puts into her actions and caring for patients. She is truly one of the most compassionate nurses I know, and she loves caring for others.