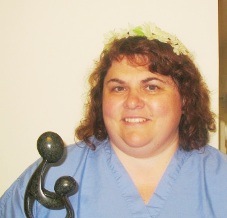 May 2013
Kim
Akers
,
RN, BSN
Ambulatory Surgery Unit
Rumford Hospital
Rumford
,
ME
United States
I am 10 years old. I was born with a rare, treatable disease called Brutons x-linked Agammaglobulonemia. We just call it Bruton's disease. It means my body doesn't make its own immune system.

I have been getting IV treatments since I was 3 months old. I've had all my treatments here at RCH except for my very first one that I had in Portland. I've had excellent nurses care for me over the years like Michelle Carignan, Joette Carlton and Kim Akers.

Kim has known me since I was born. I have to get my IV treatments every 4 weeks and Kim has always been there for me. That really means a lot to me and my mom. She always goes out of her way to make me feel comfortable, like at home. I really love her and appreciate her. She is like a second Mom to me. She feeds me, she tucks me in my bed, and she takes care of my family, she fills my heart with joy.

When I come to Rumford Hospital for IV medicine, she makes me feel at home every time. During my Birthday month, she always gives me treats and a birthday card. I think she deserves this DAISY Award because she is a loving, kind, funny and generous nurse. Oh and she gives great hugs!

Thank you for being part of our lives, Kim Akers, and for sharing your gift.