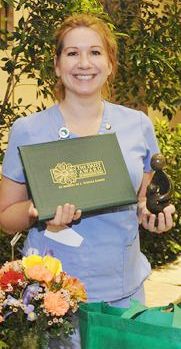 Heather
Ainsworth
January 2013
Heather
Ainsworth
,
RN
ICU
Henry Ford West Bloomfield Hospital
West Bloomfield
,
MI
United States
Heather Ainsworth began her nursing career on the Garden GPU at Henry Ford West Bloomfield Hospital after graduating from nursing school in 2010. As a novice nurse, she quickly became familiar and intrigued by the neuro-patient population. It was her passion to provide superior care to these patients that led her to pursue a nursing position on the Garden Neuro-Surgical ICU. Since joining our team in 2011, Heather has championed the importance of providing the patient and family with quality education on the plan of care, and their role in that plan to ensure the best possible outcomes. Her passion for excellence in this area has led her to advance her own education by pursuing an Advance Practice degree.
Recently, I was made aware of a Get Well Network entry submitted by the family of one of Heather's patients. It read:
"Hello is anybody in there? Yes, we know that you are in there! We wanted to take a moment to tell you that Heather is a fabulous nurse and an extremely hard worker. She is magical and super friendly, she is making my dad feel very comfortable in the ICU."
Well, after reading this, I knew I had to find out more! So I followed up with Mr. Pintar's daughter who without hesitation said the following:
Recently Heather had the opportunity to care for my father in the ICU. He arrived in the ICU after a major operation and we were all concerned about his comfort and care during his stay. While in the ICU, Heather always demonstrated she enjoyed what she was doing and was passionate about the quality of his care. There were times during his stay she made my father laugh which comforted us and she always went above and beyond to make sure every possible need was met not only for my father, but for his family as well. Heather took the time to regularly update my father and our family about his condition and changes without hesitation. When the doctors met with us, Heather was diligent to ensure we understood the medical information provided to us by the medical team. We always felt our needs were met.
To our team and to those she cares for, it is profoundly obvious Heather defines the practice of nursing with her dedication, compassion and quality care. Without question, we are very fortunate to have her on our team.