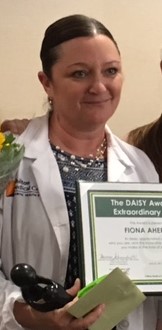 June 2017
Fiona
Ahern
,
RN
Stroke Coordinator
Chilton Medical Center
Pompton Plains
,
NJ
United States
It is difficult to summarize the countless ways that Fiona has impacted the care of the stroke patients at Chilton. Not only does Fiona provide educational classes, she also supports nurses at the bedside in caring for difficult stroke cases. She advocates for each and every patient that suffers from this life altering diagnosis. She supports and often assists the ER staff in getting the fastest door to tPA possible to give stroke patients the best chance of recovery. She follows the patients once they are admitted ensuring all of the core measures and best practice are being followed. She makes it her priority that each stroke patient receives the highest standard of care, while meeting their individual needs.
One specific example of this is the individualized care she provided to a stroke patient with no family support. The patient had been in the hospital for over a month and was becoming increasingly agitated and frustrated due to his financial situation, lack of support system, and his communication difficulties that resulted from his stroke. Fiona advocated strongly for this patient. I personally witnessed Fiona taking the patient for a walk around the hospital grounds (even though she was extremely busy) just to give him a change a view. It was the first time I saw the patient smile. She bought him in a basket of snacks and activities, to help him break the monotony of spending every day in a hospital room. She tracked down a friend of the patient who was able to go to his apartment and bring this patient his checkbook and bills, which relieved a lot of the patient's anxiety. When I asked her why she was doing this, she replied, "I have to take care of all of my stroke patients, not just the easy ones". She made a difference that I will never forget and is a true DAISY Nurse.