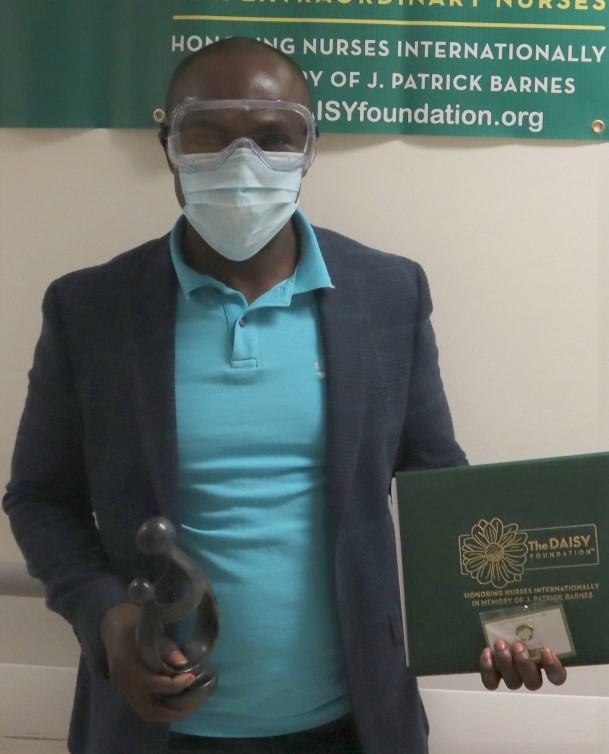 October 2020
Augustine
Agyemang
,
RN
Medical Decisions Unit
University Hospitals Coventry and Warwickshire NHS Trust
Coventry
United Kingdom
I ended up on MDU 2 days after a mastectomy operation, which included the removal of my lymph nodes. I had my operation at a private hospital, as the breast cancer team were adamant that they wanted to keep their patients away from UHCW. As I am taking high doses of morphine and codeine for a prolapsed disc, I had developed severe constipation which no amount of laxatives were moving out of my body, resulting in my skin being torn and bleeding. As you can imagine, I was extremely distressed at being left in a wheelchair in the MDU waiting room surrounded by 30-40 other patients. I felt incredibly embarrassed, weak and very vulnerable with a chest drain hanging from my wounds; afraid of being exposed to infection. However, your staff very quickly moved me into a side room with my own toilet and I spent the night on a trolley there.
I have given you the context so that you can understand how much I appreciated the kindness, professionalism, and sensitivity of Gus. He could not have looked after me any better if I had been his own mother. Unfortunately, he was not available when I was discharged at 05.30 the next morning, so I was not able to thank him for looking after me so well. Please would you pass on my heartfelt gratitude to him and give him this thank you card.
May I also take this opportunity to thank you and all of your wonderful staff for the incredible work that you are all doing during these unprecedented times. As ill as I was, I could recognise how frenetically busy MDU was on Friday evening. I pray that God will bless you all with love, peace, and keep you all safe.